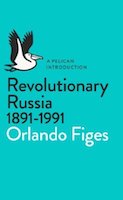 Orlando Figes's latest book is Revolutionary Russia, 1891-1991 (Pelican, 2014), which draws from which draws from several of his previous books on the Russian Revolution and Soviet history. It argues that - although it changed in form and character - the Russian Revolution should be understood as a single cycle of 100 years, from the famine crisis of 1891 until the collapse of the Soviet regime in 1991.
Praise for Revolutionary Russia:
Insightful and convincing... Figes integrates his analysis into a highly readable story, and he shows himself to be a master of historical narrative. Readers will find themselves absorbing a great deal of information and insight with very little effort (David Priestland, Financial Times)
A primer intended for readers unfamiliar with the territory, it sparkles with ideas, vivid storytelling, poignant anecdotes and pithy phrases... Fresh and dramatic (Victor Sebestyen, Sunday Times) To accompany Revolutionary Russia there are two websites designed by Orlando Figes to help teachers and students study the Russian Revolution and Soviet history.
To visit the free site go to www.orlandofiges.info where you will find a historical outlines, commentaries, photos, videos, and extracts from Orlando Figes' books.
For A-level teachers and students who are keen to stretch their studies, or for students at university, there is a premium site www.revolutionaryrussia.com with more materials, including:
** my ideas on how to answer the most common questions in A-level and university exams;
** opportunities to participate in on-line seminars with me on Google Hangout to discuss the major themes of the Russian Revolution and Soviet history, and a video library of previous seminars;
** lecture/podcasts for each of the website's 18 sections;
** longer extracts from my books carefully selected to help students deepen their ideas on key themes;
** photo essays and videos with questions designed for class work;
** regular discussions of key themes and exam questions;
** updates on news and source materials for Russian revolutionary history.
There is a small subscription fee (£49.99 per year for schools and £7.99 per year for individuals) to access these and other materials at www.revolutionaryrussia.com.
Subscribe now via Paypal.