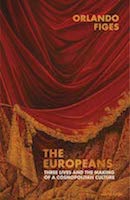 This is what Metropolitan (US publisher) says of The Europeans:
The nineteenth century in Europe was a time of unprecedented artistic achievement. It was also the first age of cultural globalization―an epoch when mass communications and high-speed rail travel brought Europe together, overcoming the barriers of nationalism and facilitating the development of a truly European canon of artistic, musical, and literary works. By 1900, the same books were being read across the continent, the same paintings reproduced, the same music played in homes and heard in concert halls, the same operas performed in all the major theatres.
Drawing from a wealth of documents, letters, and other archival materials, acclaimed historian Orlando Figes examines the interplay of money and art that made this unification possible. At the center of the book is a poignant love triangle: the Russian writer Ivan Turgenev; the Spanish prima donna Pauline Viardot, with whom Turgenev had a long and intimate relationship; and her husband Louis Viardot, an art critic, theater manager, and republican activist. Together, Turgenev and the Viardots acted as a kind of European cultural exchange-they either knew or crossed paths with Delacroix, Berlioz, Chopin, Brahms, Liszt, the Schumanns, Hugo, Flaubert, Dickens, and Dostoyevsky, among many other towering figures.
As Figes observes, nearly all of civilization's great advances have come during periods of heightened cosmopolitanism―when people, ideas, and artistic creations circulate freely between nations. Vivid and insightful, The Europeans shows how such cosmopolitan ferment shaped artistic traditions that came to dominate world culture.
This is what Penguin (UK publisher) says of The Europeans:
The Europeans is a richly enthralling, panoramic cultural history of nineteenth-century Europe, told through the intertwined lives of three remarkable people: a great singer, Pauline Viardot, a great writer, Ivan Turgenev, and a great connoisseur, Pauline's husband Louis.
Their passionate, ambitious lives were bound up with an astonishing array of writers, composers and painters all trying to make their way through the exciting, prosperous and genuinely pan-European culture that came about as a result of huge economic and technological change. This culture - through trains, telegraphs and printing - allowed artists of all kinds to exchange ideas and make a living, shuttling back and forth across the whole continent from the British Isles to Imperial Russia, as they exploited a new cosmopolitan age.
The Europeans is Orlando Figes' masterpiece. Surprising, beautifully written, it describes huge changes through intimate details, little-known stories and through the lens of Turgenev and the Viardots' touching, strange love triangle. Events which we now see as central to European high culture are made completely fresh, allowing the reader to revel in the sheer precariousness with which the great salons, premieres and bestsellers came into existence.
Here is the first review by Kirkus:
A prodigiously researched account of the spread of culture throughout the mid and late 19th century using three specific biographies to personalize the voluminous historical data.
Figes (History/Birkbeck Coll., Univ. of London; Revolutionary Russia, 1891-1991, 2014, etc.) returns with another astonishing work displaying his vast knowledge of art, music, literature, culture, and history. Wisely, he uses three people to embody much of his discussion: Russian writer Ivan Turgenev, French singer Pauline Viardot, and her husband, Louis, a political activist and literary figure. The author follows these three over the decades—Turgenev and Pauline had an intimate relationship that Louis tolerated—and through their stories, we see specific instances of the cultural changes Figes illuminates throughout the book. The growth of railways, the advances in photography and publication, the explosion in literary translations, the vast increase in literacy—these and other factors increased the development of a kind of common European culture that only the growth of nationalism, and the consequent wars, could weaken. "The arts played a central role in this evolving concept of a European cultural identity," writes Figes. "More than religion or political beliefs, they were seen as uniting people across the Continent." This necessitated the "recognition that any national culture is a result of a constant dialogue across state boundaries and of the assimilation of separate artistic traditions into a larger European world." Turgenev and the Viardots traveled continually: She was a popular singer, and, initially, it was her financial success that supported her family. Later, her voice gone, it was Turgenev's writing and generosity. In many ways, the text is a who's who of the time period. Liszt, Dickens, Balzac, Hugo, George Sand, Chopin, Tolstoy, Flaubert—these and countless other icons move smoothly through the narrative, a rich mélange of tasty ingredients. There are some mild surprises, too: Mary Shelley briefly wanders in (we read Victor Frankenstein's description of the Rhine), and Henry James makes some cameos.
A powerful and essential addition to our understanding of European history and culture.
The Europeans is available on Amazon